The Lake Waramaug Task Force's cutting-edge project to cultivate Zooplankton in the former aeration facility on Arrow Point is now operational. Modifications to the basins have been made and the microscopic organisms have been introduced. The initiative has been funded in part by start-up grants from the Ellen Knowles Harcourt Foundation (see below) and the Marion Wm. and Alice Edwards Fund, a fund of the Community Foundation of Northwest Connecticut. Additional funding was obtained through participation in the Give Local campaign in May.
Zooplankton are microscopic-sized aquatic animals that have been shown to be important in controlling algae populations in lakes. Although natural to Lake Waramaug, the zooplankton population was significantly diminished by the introduction of the alewife, a non-native fish, to the waters in the 1960s. The alewife feeds on zooplankton, and the upsetting of the natural ecological balance resulted in larger and more frequent algae blooms in the 1980s.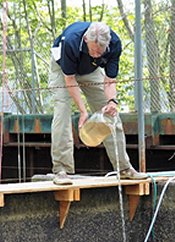 LWTF's chief limnologist Dr. Robert Kortmann pouring a seed batch of zooplankton into the newly modified "Zoo-P Farm" facility on Arrow Point.